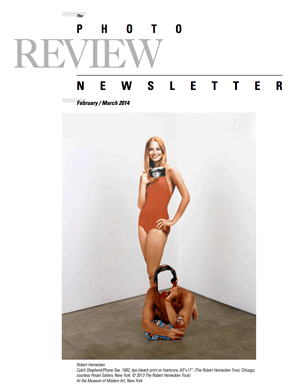 The Photo Review Newsletter February/March 2014 - Cover feature:
Robert Heinecken Cybill Shepherd/Phone Sex. 1992, dye bleach print on foamcore, 63"×17". (The Robert Heinecken Trust, Chicago; courtesy Petzel Gallery, New York. © 2013 The Robert Heinecken Trust) At the Museum of Modern Art, New York City

NEWSLETTER
The Photo Review Newsletter, issued eight times a year, contains the most complete exhibition listings from throughout the Mid-Atlantic region (New York, Philadelphia, Pittsburgh, New Jersey, Delaware, Maryland, Virginia, and Washington, DC) and California, and exhibition opportunities and news of interest from throughout the world.
View February/March 2014 of The Photo Review Newsletter.

The Photo Review, 140 East Richardson Avenue, Suite 301, Langhorne, PA 19047-2857.