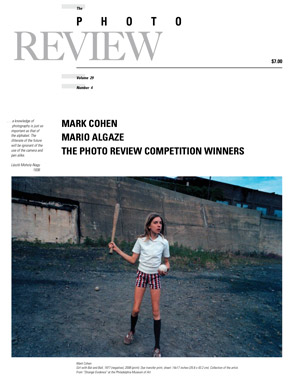 The Photo Review Volume 29 Number 4 - Featuring:
Mark Cohen, Mario Algaze, and The Photo Review Competition Winners


JOURNAL
The Photo Review is a highly acclaimed critical journal of national scope and international readership. Publishing since 1976, the Photo Review covers photography events throughout the country and serves as a central resource for the Mid-Atlantic region. With incisive reviews, exciting portfolios, lively interviews, the latest in books and exhibitions, The Photo Review quarterly journal has earned a reputation as one of the best serious photography publications being produced today.
In past years, The Photo Review has presented previously unpublished images by Weegee, Duane Michals, and Frederick Sommer and catalogues for a James VanDerZee exhibition, a show of Lois Greenfield's dynamic dance photographs, and the exhibition "Changing Visions of the American Landscape." Most recently, we have extended our coverage to include the European scene, with reports from Documenta and Arles, and regular reports from FotoFest.
Our writers have included A.D. Coleman, Stephen Perloff, Shelley Rice, Peter Hay Halpert, Barbara L. Michaels, Jean Dykstra, and Mark Power.
View Volume 29, Number 4 of the Journal.

IN UPCOMING ISSUES OF THE PHOTO REVIEW
Jean Dykstra Haunts George Tice's "Urban Landscape"

Colette Copeland Plays Wendy Ewald's Secret Games

Frank Day Rides on Paul Fusco's RFK Funeral Train

Gary D. Saretzky Recalls Tom Maloney and U.S. Camera

Joe Mills and Peter Boswell Rediscover Hannah Höch

Barbara L. Michaels Visits "New York: Capital of Photography"

Carole Glauber Interviews Michael Kenna

Colette Copeland Reflects On "Here Is New York: A Democracy of Photographs"

Diana Gaston Takes On Adam Fuss

Nancy Brokaw Considers "Evidencing: Drawing with Light and Pixel"

David Vestal Reads Rondal Partridge's Quizzical Eye

Frank Rodick Confronts Joel-Peter Witkin

Helene Ryesky Interviews Stuart Rome

Stephen Perloff Explores the Extraordinary Life and Work of Stanley Wulc

CUBA! — images by Philadelphia photographers Susan Bank, David Graham, Eric and Kass Mencher, Laurence Salzmann, and Ron Tarver

Camera Work: A Centennial Celebration

Book Reviews and More

The Photo Review, 140 East Richardson Avenue, Suite 301, Langhorne, PA 19047-2857.